Philips TV & Sound at ADE – Amsterdam Dance Event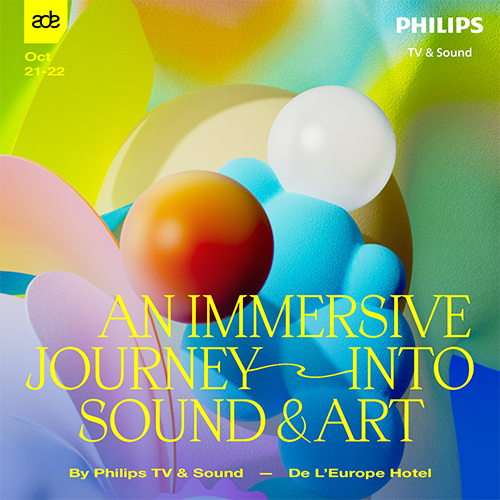 Amsterdam, September 13th, 2022
Joris Voorn to unveil immersive audiovisual composition alongside artist Johana Kroft for unique Amsterdam Dance Event listening experience
The free audiovisual experience, powered by Philips TV & Sound, takes place at Hotel De L'Europe on October 21 and 22
RSVP for the Q&A session with Joris and Johana on October 21st here.
Dutch techno legend Joris Voorn partners up with Philips TV & Sound together with Czech artist Johana Kroft for a boundary-pushing ADE audiovisual experience. This truly immersive, standout exhibit invites attendees to explore the synergy between modern media formats, powered by the new and award-winning Philips Fidelio wireless AV system. Experience ADE from a brand new perspective with this enchanted experience at the Hotel de L'Europe on October 21 and 22.
Last year, Philips unveiled their deep listening exhibition with DJ and producer Patrice Bäumel, titled "Into Light." Now, the consumer electronics company looks to push the envelope even further with the introduction of their "Living Room Sessions" to this year's ADE. Visitors will have the chance to experience Joris Voorn and Johana Kroft's short-form and multidisciplinary collaborative work before the floor opens for an intimate Q&A with both artists on October 21st at 2 pm. Emphasizing the power of the Philips Fidelio systems, attendees will also have the chance to explore the event's whimsical, digital art gallery, featuring a curated cast of regional artists including Dutch artist Rik Oostenbroek, known for his dynamic forms & unique abstract shapes, and augmented reality artist Isabelle Udo.
Philips TV & Sound will be offering drinks and networking opportunities for those in attendance, putting the stamp on a memorable audiovisual weekend with a standout networking experience.
Don't miss your chance to enjoy this immersive listening experience during ADE at Hotel De L'Europe October 21st and 22nd.
General information
The Living Room Sessions is a free event accessible to everyone.
Please note capacity will be limited for the Q& A session, please register via this link.
Friday October 21st from 12pm – 7pm
Saturday October 22nd from 12pm – 7pm
Hotel De L'Europe, Nieuwe Doelenstraat 2-14, Amsterdam
About Joris Voorn
Joris Voorn sits at the epicenter of the Dutch electronic music scene as one of the most renowned and instantly recognizable artists from the Netherlands, representing house and techno on a wider global stage. Based in Amsterdam, which is hard to deny as the global capital of electronic music, few artists embody the melting pot of musical influences that define the city's legendary techno scene more than Joris Voorn.Joris is the embodiment of modern-art and a tech-savvy touring DJ, with both feet planted firmly in Europe's thriving techno community, but a keen eye for contemporary art, photography, and a long-standing love of architecture.
About Johana Kroft
Johana Kroft is a 3D artist from the Czech Republic, who is currently based in New York. After living in London and traveling around the world establishing her studio Idea & Maker, she now works worldwide. Johana prioritizes showing deep emotions through her artwork and with the innovative digital mediums, she is now able to keep her art alive forever. Kroft interprets her colorful brand in 3D worlds through various styles and techniques, often combining different shapes, colors, and surreal spaces into a single, storytelling frame. Recently Johana started working with AI software as part of her artistic process, opening exciting new doors for her artistic expression. Her biggest successes thus far include two exhibitions in China, art installations in NFT NYC, Decentral Art Pavilion Venice Biennale, Women and NFT, Show by Paris Hilton – Empowered By Paris – Sevens Foundation, Czech Design Week 2021 and 2022, ArtGee x SuperRare Spaces Exhibition | Randomness, and her illustration for New York Times.
Follow us also on social media:
TP Vision Europe B.V. ('TP Vision') is registered in the Netherlands, with its head office in Amsterdam. TP Vision is a wholly owned company of TPV Technology Limited ('TPV'), which is one of the world's leading monitor and TV manufacturers.
TP Vision is a consumer electronics key player in TV and audio entertainment. TP Vision concentrates on developing, manufacturing and marketing Philips-branded TV sets (Europe, Middle East, South America, India and selected countries in Asia-Pacific) and Philips-branded audio products (globally) under trademark license by Koninklijke Philips N.V. We combine the strong Philips brand with our product development and design expertise, operational excellence, and industry footprint of TPV. We believe in creating products that offer a superior audio and visual experience for consumers.
The content in the news releases is accurate at the time of publication but may be subject to change without notice. All trademarks mentioned in this news release are the property of their respective owners.
For additional materials, photos, videos, footage please see link below:
High res images: https://www.tpvision.com/image-library/