Interview with Colin Jackson
Colin Jackson:
'Small steps can make a big difference'
In 2022, TP Vision announced its high-profile partnership with the Wings For Life Foundation as the official global headphone partner of the Wings For Life World Run. Consumers who purchase a Philips Sport headphone between February and May 2022 are encouraged to participate, and their fees are covered by TP Vision, with 100% of all entry fees going directly to spinal cord research. We also encourage our own employees and partners to enter the race as a global team: GO TP Vision!

To learn more about this partnership Stefan van Sabben, Global CSR & Sustainability Manager at TP Vision, sat down with Colin Jackson, the world-renowned Olympic medallist and Wings for Life World Run International Sports Director.
During his sprint and hurdling career, Jackson won an Olympic silver medal, became world champion twice, World indoor champion once, went undefeated at the European Championships for 12 years and was Commonwealth champion twice. Nowadays, he is highly involved as International Sports Director for the Wings for Life World Run, the global fundraising event to support medical research and ultimately finding a cure for spinal cord injuries.
What were key motivators for you during your career, to keep performing sports at elite level?
One of the key factors was to always set goals that were realistic to reach along the way. When I was 19 years old, I never set the target to beat a world record. My target was to improve all the time, take every stage in a tiny block and build a solid foundation. What was critical for me during my career is consistent application. I had to apply my energy, motivation and inspiration every single day.
If that becomes the norm, things will be quite easy from there on. That was the easiest road for me to keep my focus, to get to the top and to maintain it. Goalsetting is a key aspect. Set them right and realistic for that moment in time. When I see things that are new, I don't go: I can't do that, but I give it a try. When you can do it, then why can't I? Why not? I will do it and take it on. All that, I definitely carry with me, and all that is from my history.
Were there any challenges that you had to overcome to perform? How did you tackle these?
Yes, there were certainly challenges. In athletics, you run in your own lane. Nobody comes from the right or the left to take you out, like in football or rugby. It is all about you and your own little world. The biggest problem you have is beating your own mind, because your mind sometimes takes you to places that you absolutely don't want to go.
The key thing is to manage your mind. Keep yourself in a positive light. What you get over that is that you can deal with whatever they throw at you. Don't let anybody else crank up the pressure on you. You know what you're capable of, you can deliver what you're capable of
Which role does music or sound play in your sports routine? For instance, do you use music to enhance performance or get you more motivated?
Music plays a huge part in getting myself energized. It takes me places and provides that extra positive drive when I'm performing. Music plays a big role in the entire experience.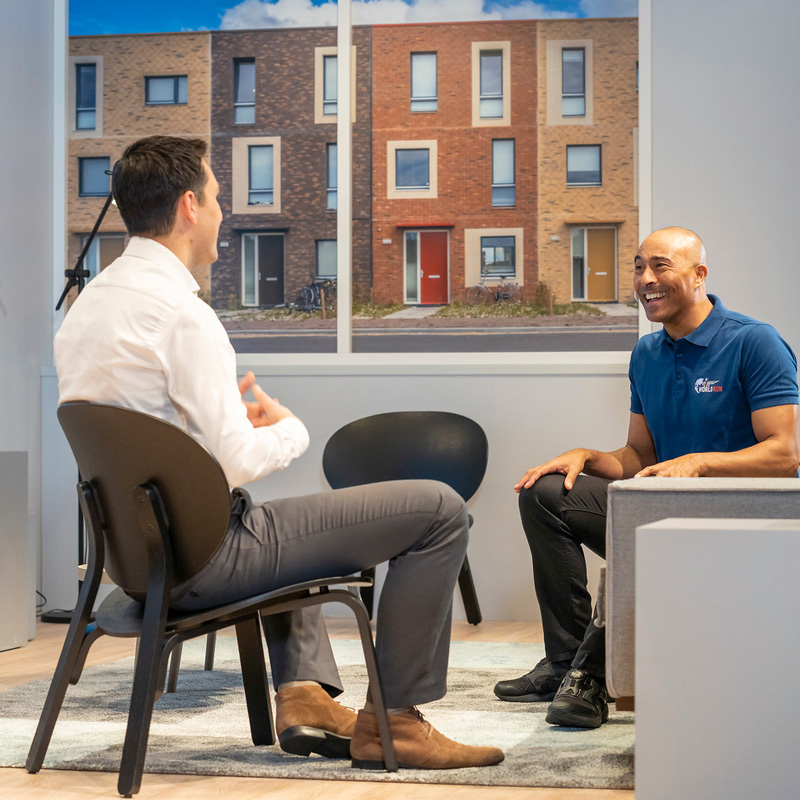 How were you able to keep the balance when external things happened, for instance with your family?
Some things happen outside of your own influence. An event that really made an impact in my life was the fact that my training partner at the age of 21 passed away quite suddenly of a peanut allergy. He was training with me, and two days later, he was gone. That was the year I won my second world title outdoors.
It was tough, it wasn't easy, going through a time when instead someone's running next you, you are mourning and missing him. It was hard to keep focus, because it was something the whole group I was with was going through. We were there supporting each other, and that was so important. In the end, we felt like what everything we did was dedicated to his life. He gave me a genuine kick-start.
Which learnings from your career do you teach when coaching and educating people about sports?
Stay inspired. Every day, you have to get up for something. People in my life have always helped me along the way. Parents, friends, coaches, training partners, sponsors, they have all helped me to be the best person I could be. They inspired me to be a good, decent person. For me, I want to get up every day and apply all that. Whether it's to take a phone call from an athlete who failed, it's about being a person that inspires, and that's what makes me get up every day now.
One of the people I look up to, especially when I was a young athlete, is decathlon athlete Daily Thompson. He is like the Usain Bolt of my years, that's how good he was. He was Olympic champion twice, world champion, world record holder, he accomplished it all. To have someone like him, who speaks with you and sounds like you, it makes a huge difference because it shows what hard work can do. He achieved at the highest level and served as an amazing motivation for me.
Can you tell more about how you became involved with Wings for Life?
The team that looks over Wings for Life from a Red Bull level met a friend of mine, without knowing he was close to me. They told him that they were thinking about Colin Jackson for the project. He told them that he was a close friend and asked me to meet the team and see what I think about their ideas. I told my friend: you know how busy I am, but he pushed and suggested to meet them, listen to them and decide what
I wanted to do. I told him that this would be okay and the next thing I know, I received a phone call and they were on my doorstep. We went to have lunch, and I learned more about the foundation. That conversation was a special moment in my life. When I learned about spinal court injuries and about basic little things we take for granted, it hit me. I realized: I need to do something about this. During the meeting, I said: you don't have to say anything more. I'm in, one hundred percent. That was right at the very first beginning, even before we had a World Run. And from that moment, we started growing and growing.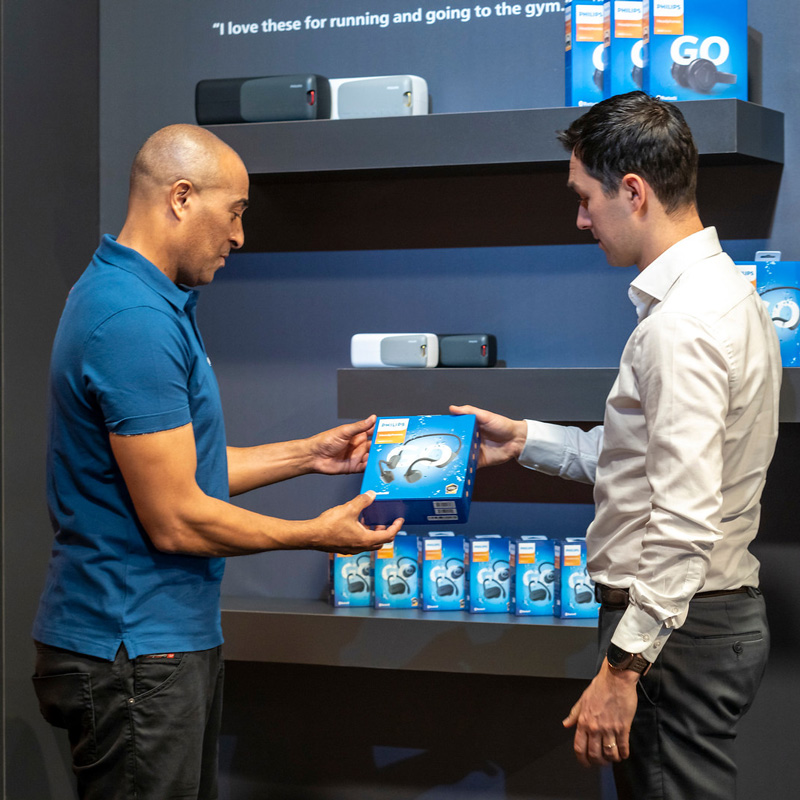 Wings for Life ultimately aims to find a cure for spinal cord injury. How do you personally contribute to this mission in you work for the charity?
One of the most important things for me is to have a voice. I'm not a scientist, but I do have a voice and people will tend to listen to what I have to say. Once I visited some of the labs in London and the incredible work that was don there, it took my breath away. We do our jobs, but they are doing theirs, jobs that could change the world forever and ever. When I talked to them, it became clear that they needed finance.
Money saves time. The more funding we have, the more we enable these labs to learn, make mistakes and rectify them, to get to the ultimate goal. I feel that my voice is the biggest thing I have to contribute to that goal. Off course, running is in my nature as well and a connection as well. I never participated in the run though, because I'm busy on race day. For instance to see if there are people cheating. We make sure these things do not happen. My role is also to do things in the control tower studio during the event.
What makes Wings for Life a unique experience compared to other good causes?
Everybody can take part, no matter what level you're at. You can be an elite or beginner. Because the finish line comes to you, it means that you can do 500 meters or 50 kilometres. You can just go as far as you can do. I have many friends who just walk, but they just want to be part of the event.
The finish line that's coming to you, that is one of the unique factors of the race. The fact that everybody starts at the same time all over the world makes it special too. People all over the world feel that they are running together. We make that magic happen. And a hundred percent of the money raised all goes to spinal cord research.
What makes spinal cord injuries such an urgent topic in society? Why is it necessary to create awareness for this?
Lots of people forget that spinal cord injuries happen at the simplest moments in your life. You can slip on black ice for example, and most injuries come from car accidents. Every day, we get in a car so we put ourself in that territory without even thinking about it. Literally tiny accidents can cause these spinal cord injuries.
Lots of people think it happens during extreme sports, that that's the biggest problem. That's not the case. It's important to explain that all of us potentially can get a spinal cord injury, because of the way we live our life. That's one of the reasons that we want to stand up. If we get a cure, it would be amazing and change the lives of so many people. We give a lot of hope to people who are suffering from it.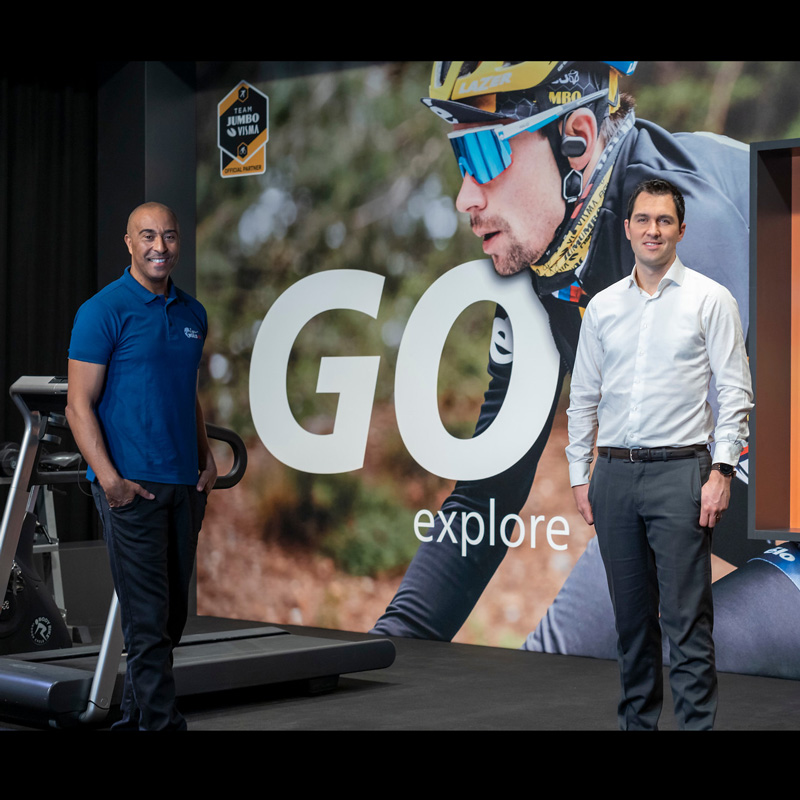 What do you see as the most important reasons for the success of the Wings for Life Foundation?
We give hope, and that makes us successful. When we make that breakthrough in medical treatment, it will be something forever and ever. We eventually will get a cure, and by donating, you can be part of that breakthrough and part of the difference. You are investing in this. Small steps can make a big difference.
How does the partnership with TP Vision help Wings for Life reach its mission?
Together with TP Vision and the Philips Sports Headphones, we've got a really great product with over 184,000 people running around the globe. Our main goal is to give people the opportunity to experience our App to its fullest potential. Philips headphones give that extra experience. The collaboration with TP Vision therefore makes a huge difference for everybody.
The partnership with the Wings for Life foundation is part of our global social impact efforts under our Future Proof sustainability program.