The corporate giving programme of AOC, MMD, PPDS and TP Vision aims to provide in-kind and financial support for projects that have a lasting positive effect on society. We invest in projects that aim to deliver significant impact while maintaining an independent perspective on the future. We do not seek to give for the sake of giving, but to work together to achieve a lasting difference. Projects seeking support from us have to meet a number of conditions. These include clear, measurable objectives, a businesslike approach and an ambition to achieve a significant, lasting impact.
All projects and initiatives that meet the criteria can submit an application form. Applications can be submitted throughout the year using the form below. It is important to complete this form in full and attach all requested documents.
Selection criteria
We value an entrepreneurial mindset and support projects focused on long-term impact.
Development is a significant aspect of the project, the desire to make something truly 'better'. It's about improving an underprivileged or disadvantaged situation.
We provide support for the longer term, not necessarily by means of a one-off investment but possibly over several years.
The application contains a project plan with summary, an implementation plan with clear deadlines and a communication plan for the progress.
Add images so that we get a good picture of the project.
What do we do & what not?
We support:
Concrete projects with a clear beginning and end
Sustainable initiatives, continue to exist independently after completion
Projects where we are updated personally
Requests that show that you have studied us
Projects with a possible link to our internal awareness activities and material topics
We don't support:
Applications for individuals
Applications on behalf of social enterprises
Crowdfunding, sponsor requests or fundraising
Projects of commercial interest
Promotion & scientific research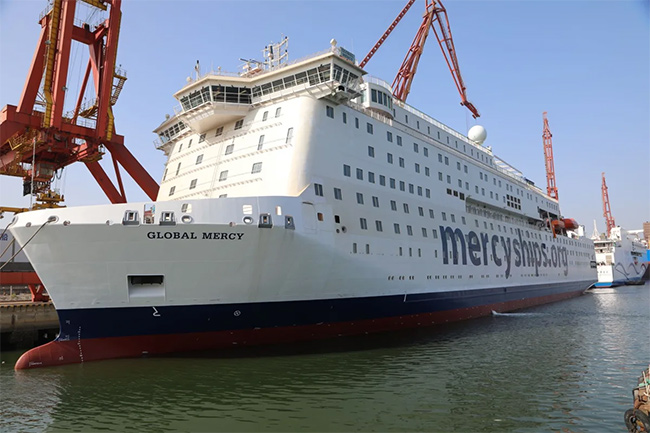 Highlighted project SDG 3: Good health and well-being
Case study: Mercy Ships
People are more than twice as likely to die from surgery complications in Africa. At the same time, millions experience health, social and economic decline due to a lack of access to quality surgery. By partnering up with Mercy Ships, we contribute to their mission to provide free surgeries and medical care to thousands of people where healthcare is scarce. Mercy Ships' mission is to bring Hope and Healing to the forgotten poor, both through direct patient care and Medical Capacity Building (MCB). eLearning represents a relatively new and fundamental training component offered by Mercy Ships to support and complement its existing MCB-activities. Building infrastructures for telecommunications will enhance the opportunities for eLearning, simulation-based learning and eMentoring. An important part of the programs is to set up training centers, of which Gamal Training Center in Guinea is the first. We supported Mercy Ships with displays, monitors, headphones and soundbars for their eLearning program.